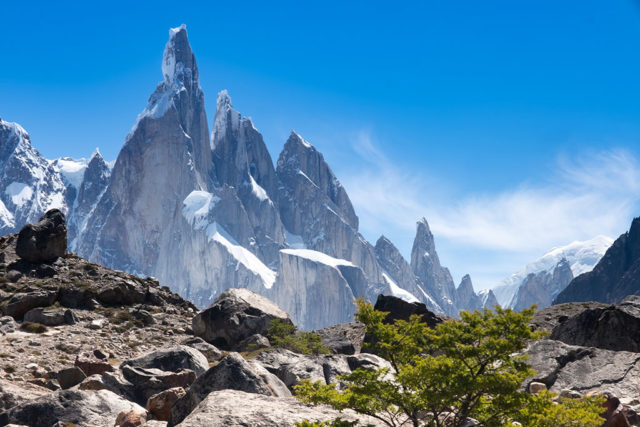 El Chalten, often called the "National Capital of Trekking" offers the most scenic trails in all of Patagonia. This area of exceptional beauty is home to the glorious peaks Monte Fitzroy and Cerro Torre, numerous milky glacial lakes, rushing waterfalls and expansive woodlands. Immerse yourself in the unspoiled nature of Los Glaciares National Park to see why this region is recognized internationally for its natural beauty.

Cerro Torre
Located in Southern Patagonia, just outside of El Chalten, is a valley trek beautiful enough to rival Torres Del Paine. The Laguna Torre hike is a gentle trail that takes you to Cerro Torre. It's unique needlike formation has given it the claim of "the most beautiful mountain on Earth" and attracts professional mountain climbers from all over the world. It is the most popular trail in the park and from your first view from Mirador Torre you'll be enraptured by the gorgeous towers. Breathe fresh mountain air and recharge your energy once you reach the shore of Laguna Torre. Here you can admire the impressive glaciers encompassing the bold granite towers and the icebergs floating calmly below in contrast. The hike to Cerro Torre is just shy of 12 miles round trip and takes 7-8 hours so plan accordingly.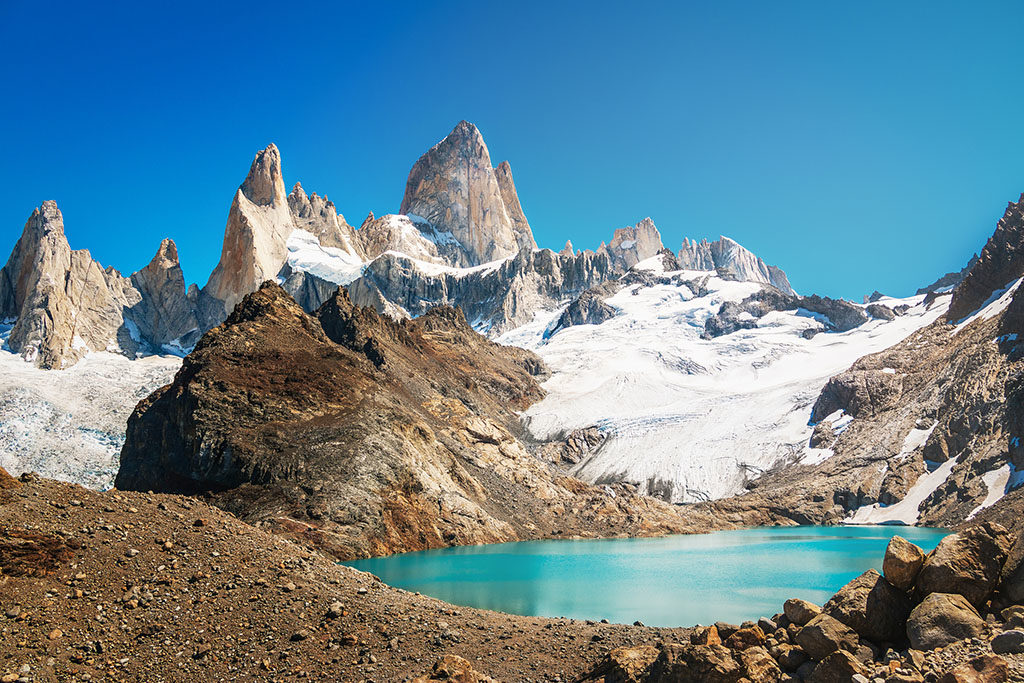 Laguna de Los Tres
Mount Fitzroy perhaps has the greatest name recognition of any mountain in Patagonia and this is the trek that will take you to it. Mount Fitzroy is known for its sheer cliffs and deep blue glaciers that frequently calve off into Laguna de Los Tres. The trail follows a stream through scenic rocky vistas and wooded glades where pumas and woodpeckers occasionally make an appearance. After a final push, glacial Laguna de Los Tres and Mount Fitzroy will be in front of you complete with pinnacles and hanging glaciers. On your left is the viewpoint for Laguna Sucia with dramatic views of waterfalls melting into its deep blue waters. This moderately difficult hike is 15.5 miles long and will take 8-9 hours. Make sure to come prepared as this might quite possibly be the highlight of your time in Patagonia. Enjoy your hike of a lifetime!
If this one interests you check out our: Hike Cerro Torre + Laguna de Los Tres
Loma Del Pliegue Tumbado
Known for its magical 360 panoramic views, this countryside trek is a great alternative for those wishing to challenge themselves and avoid the crowds. Cerro Torre and Mount Fitzroy come into view while approaching Loma Del Pliegue through the shrubland and wild flowers. Ascending to the viewpoint on a clear day you can see everything -the town of El Chalten, Rio Tunel Valley, Glacier Grande, and various lakes scattered below. Although a difficult trek, it earns the title the 'hidden treasure' of the park and the satisfaction when reaching the top makes it completely worth it. As stated it is best to hike on a clear day -check the forecast to avoid cloud obscured views. This uphill, difficult trail is a 12 mile round trip and will take anywhere from 7-9 hours.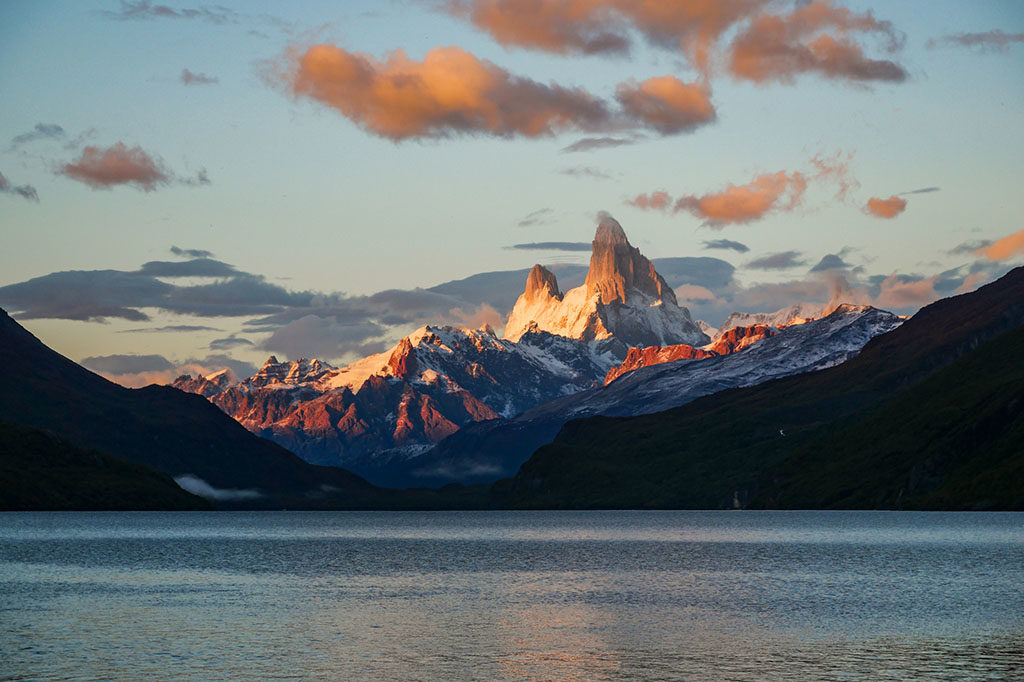 Planning a trip to Patagonia can be overwhelming as this vast, pristine region has many 'must- see' landmarks and 'must-do' adventures. In Southern Patagonia, El Chalten has world class treks with breathtaking views that are both. As the most popular park in Argentina, Los Glaciares National Park really is the trekking capital that you need to experience for yourself. As always we hope you found our post helpful in organizing your trip! If you enjoyed it please do subscribe to our mailing list for future posts!


To see everything Patagonia has to offer with minimal hassle, the best way would be with our comprehensive 14 day adventure spanning across Argentina and Chile. Trek the amazing Los Glaciares, Torres Del Paine, and Tierra Del Fuego National Parks with us.

echo st_makeEntries() ?>