September 27, 2018
by
Robert Hatch

0
What to Pack? Trekking in Patagonia
What should I pack? Did I pack too little? Did I pack too much? These are questions that swim through our heads while preparing for any trek and here is what you need to have in mind for trekking in Torres del Paine.
It's important that while you are packing for your trip, you remember that you will be the one carrying your own backpack. A 35 – 40 liter rucksack should provide you with the right amount of space to carry what you will need for the W trek and 40 – 45 liter for the O Circuit. Be careful not to over-pack, because lugging around a heavy backpack could make your Patagonian adventure a lot less enjoyable.
Another consideration when packing is the weather. While we discourage over-packing, please make sure that you are prepared for sudden changes in temperature and weather. It can get very windy and the weather is known for going from sunny to rainy in what feels like a blink of the eye. A good waterproof windbreaker is a must.
Bear in mind that it's not necessary to change outer-layer clothing items like pants or sweatshirts every day. Please also be aware that there are no facilities for washing clothes inside of the lodges. It's best to bring clothes that can be layered and therefore taken off or put on as the weather changes.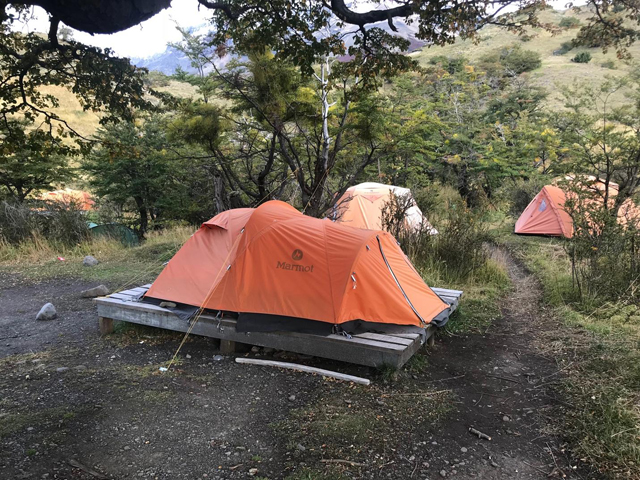 Please note that any extra luggage you don't wish to take with you on your trek can be safely stored at your hotel in Puerto Natales. We also strongly recommend bringing your own towel, particularly during the high trekking season, as lodges and campsites can run out. This way, not only do you ensure that you'll have a towel, but you'll also avoid the $8 per person rental fee.
Inner-layer of clothing:
Underwear
Moisture wicking long sleeve tee-shirts (2)
Moisture wicking tee-shirt (1)
Long underwear pants
Outer-layer of clothing:
Sweatshirt
Heavy fleece or down jacket
Fleece pants
Trekking pants (2)
Shorts (optional)
Gore Tex or waterproof jacket with hood
Rain poncho that covers your backpack
Waterproof pants
Wide brimmed hat for sun protection
Wool hat (should cover ears) or balaclava
Insulated wool or down mittens
Gaiters (optional)
Footwear – shoes and socks:
Hiking boots with ankle support (Please break in your hiking boots in advance to avoid blisters)
Camp shoes or tennis shoes (for evening time in the lodges and/ or campsites)
Plastic bag to carry spare shoes
Hiking socks (5-6) (We recommend bringing extra socks)
Sock liners (optional)
First aid and toiletries:
Advil or Ibuprofen
Personal prescriptions
Medical tape/moleskin (for preventing and treating blisters)
Antibiotics (Cipro for travelers' diarrhea)
Diaper rash cream (can treat rashes or chaffing)
Basic toiletries (soap, deodorant…)
Wet wipes
Panty liners and tampons
Face lotion
Hair brush
Hair ties
Hand warmers
Ear plugs for sleeping
Sunscreen
Lip Balm with sunscreen
Toilet paper
Towel
Miscellaneous:
Small lock(s) (for locking your rucksack in a locker while sleeping in the lodge)
Waterproof cover for daypack
Dry bags
Stuff sacks for dirty clothes/shoes
Water bottle or Camelback
Sunglasses (Strap recommended)
Headlamp with extra batteries
Favorite snacks (snacks can be purchased inside of the lodges but they can be expensive. We recommend buying snacks at the grocery store in Puerto Natales and bringing them with you)
Waterproof bags to protect electronics or paperwork
Camera with extra batteries and memory cards
Rain cover
Thermos (optional for hot beverages)
Adapter for charging electronic devices while in the lodges
Trekking Poles (Rental is available at $4000 CLP per day)
Paperwork and money:
Passport (needed at entry gate for registration)
Spending money – We recommend around $80.000 CLP – meals and accommodation are already included but cash will be useful when making additional purchases at the lodges and for tipping your guide
Credit card (optional) – Internet is available in the lodges for $ 10 USD for 8 hours but must be purchased with a credit card or via Paypal
Note: If you are camping during your trek, we will provide you with high quality camping equipment including a tent, sleeping bag and mat.

echo st_makeEntries() ?>