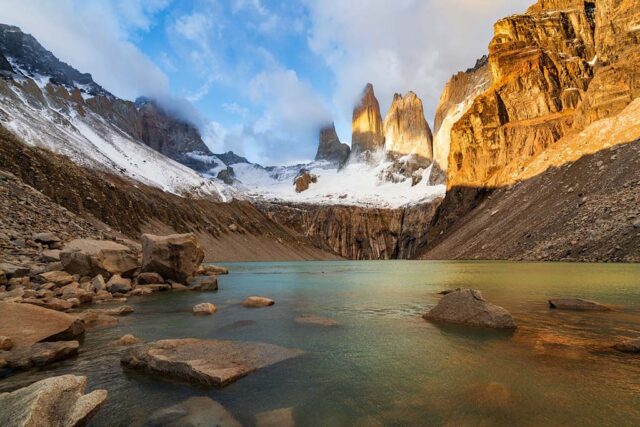 Patagonia is a region of dramatic natural beauty, from glaciated mountainscapes to vast Andean steppes. To visit Patagonia is to fall in love with this distant and mysterious land.
It is famously rugged, breathtakingly beautiful and largely untouched by man. The 'End of the World' is one of the most exciting places in the world to explore; it has everything from penguin colonies and whale watching to some of the best treks on the planet. Here are the top reasons to visit Patagonia!
1. Torres del Paine National Park
That Torres Del Paine National Park is the most popular park in Patagonia is truly a testament to its beauty considering how the vast region of Patagonia in its entirety is known for its breathtaking landscapes. Torres Del Paine offers a landscape of fiercely blue glaciers, glacial lakes and dramatic peaks to be explored. 'Los Cuernos Del Paine', a stunning range of granite peaks, and the park's jaw dropping towers, 'Torres Del Paine' are the most iconic of the park's features. Fully experience all Torres Del Paine has to offer by trekking either the W Trek or the O Circuit. Take a hike like none other across Grey Glacier's icy surface or kayak through the icebergs of Grey Lake. At the end of your time here you'll have no doubt that Torres Del Paine National Park surpasses expectations time and time again. For more information, please check out our 5-day Patagonia Experience package.
2. W Trek
The W-Trek is the most popular trek in Chile and is the best way to see the highlights of Torres del Paine National Park. This 4-5 day trek heads straight to the base of the spectacular Towers del Paine, overlooks the southern ice fields and offers stunning views of Chile's most renowned park. The trek continues along the shores of Lago Nordenskjold to the beautiful French Valley which features excellent views of the surrounding hanging glaciers, mountain lakes and several peaks. Finally, the trek goes to the Glacier Grey viewpoint to see the icebergs crashing into the water below. Take you time on the W Trek to fully absorb the beauty of the flora, fauna and terrain of Torres del Paine National Park. Check more details here: Classic W Trek 5 Days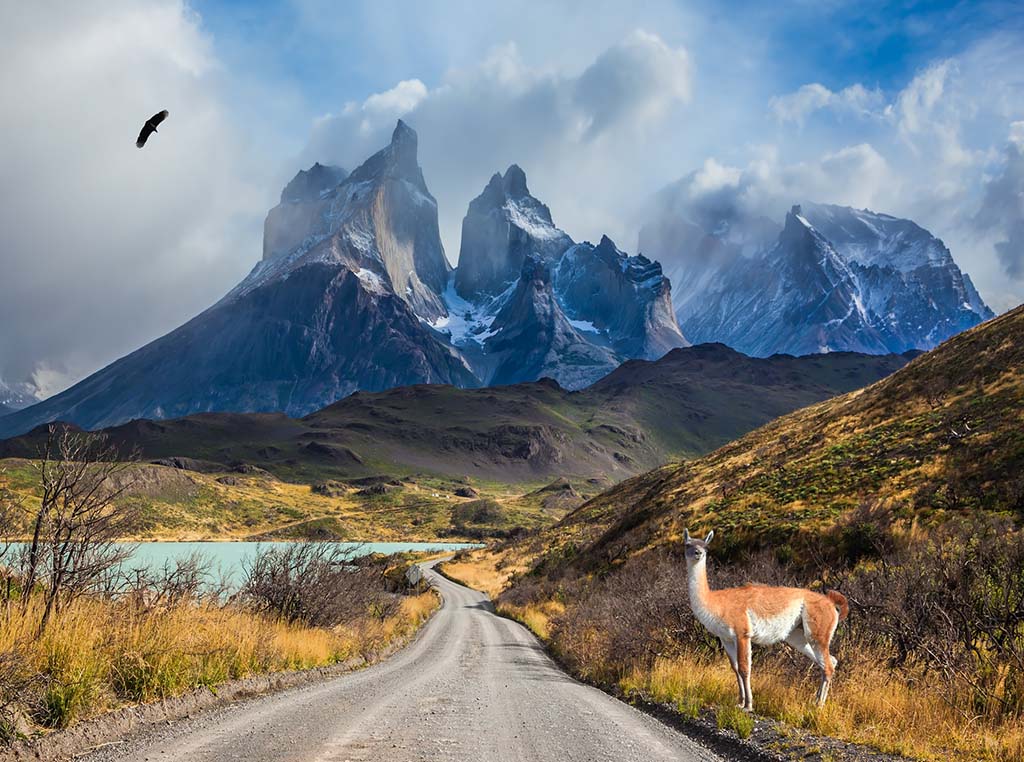 3. O Circuit
The O Circuit is a popular trek that circumnavigates the entire park's range and offers unbeatable views throughout, the whole loop takes 8 days. The trek begins by heading towards the infamous three towers and enjoying the most celebrated views in the park. After trekking through Lake Dickson, Los John Garner Pass, outstanding views of Glacier Grey and the vast Southern Ice Field will extend as far as the eye can see. The following day will take you to the shores of Lago Grey where giant icebergs calve directly into the lake right before your eyes. Finally, the circuit follows along Lago Nordenskjold, and ends after trekking through the French Valley (arguably one of the most beautiful parts of the trek). With its high granite pillars and it's spectacularly brilliant blue lakes, the O Circuit can be counted as one of the best treks in the world. Check more details here: O Circuit Trek 8 Days by Patagonia Hero
4. Ice Hiking
Ice hiking takes you through an otherworldly landscape of impressive ice towers, deep chasms, ice caves and bridges. As you move across the cold white expanse you'll encounter stunning turquoise pools and potable streams of glacial melt. If ducking into ice caves or taking surreal landscape photographs is your thing then consider strapping on some crampons and donning a helmet! The best places in Patagonia to ice trek are either Grey Glacier in Torres Del Paine National Park, Chile or Perito Moreno in Los Glaciares National Park, Argentina. Both glaciers offer unforgettable trekking experiences that will not soon be forgotten.
5. Grey Glacier
One of Torres del Paine's most stunning glaciers is Grey Glacier, visible from the routes of both the W Trek and the O Circuit. This glistening gem of the Southern Patagonia Ice Fields is nearly 4 miles wide and 100 feet tall. One of the best ways to experience this glacier is by taking a boat across Lago Grey to see the lake's huge floating icebergs up close and look down into the dark waters over 500 m deep. Another exhilarating option is to kayak through the glacial lagoon to approach the glittering fresh water chunks and see the wall of ice at your own pace.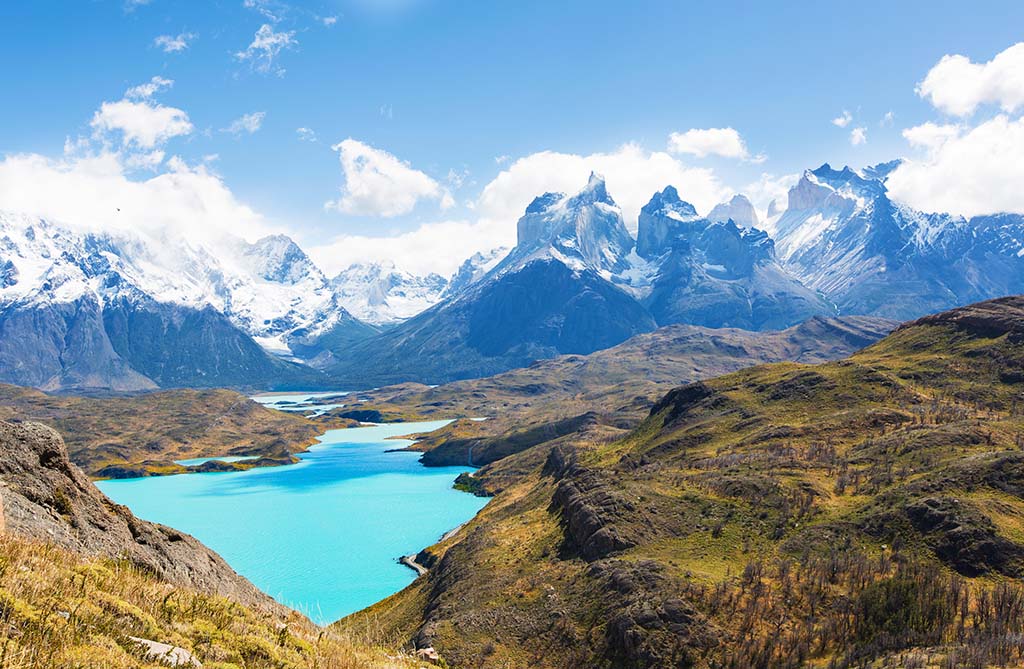 6. Lake Pehoé
If you've seen pictures of Torres Del Paine, you've likely already seen pictures of the brilliantly blue Lake Pehoe. It's certainly the most easily accessible and iconic places to stop and take in views of the famous park. The striking lake paired with the most magnificent backdrop imaginable makes you feel like you're stepping into a land of fairy tale beauty. In addition to the spectacular views, wildlife such as armadillos, foxes, and even pumas have all been spotted around the lake's periphery. If you have the time, we highly recommend taking a relaxing boat ride across Pehoe to see Los Cuernos from multiple surreal vantage points.
Local tip: The catamaran only takes cash.
7.Winter Trekking
During the winter in Torres del Paine, the park virtually empties of the typical tourist crowds that summer draws. For the intrepid this means dusting off the snow to experience the park completely to yourself. In exchange for shorter days and lower temperatures, winter visitors will be enraptured by stunning snowscapes and frozen lakes. This time of year the wind also drops and the skies are some of the clearest Torres del Paine has to offer. One of the best treks to do during this time is the winter W-Trek taking you to the base of the iconic granite towers, through the French Valley, and up to Grey Glacier.
8. Salto Grande
At 10m high, Mirador Salto Grande is the largest waterfall in Torres Del Paine and can be found in the heart of Torres Del Paine National Park. Its powerful volume of water is created by a tremendous outflow from Lago Nordenskjold bottlenecking into Lago Pehoe. As both lakes are fed by glaciers, the water of the Salto Grande is a beautiful milky blue. This 10m high waterfall can be found just a quarter mile (or half kilometer) off the road where you can hike right up to the edge and see the raging torrents below. If you continue up the same trail for another 3 miles you'll get a fantastic view of Los Cuernos in addition to seeing the guanacos that graze nearby.
Local tip: Don't forget to look up! This is a common place to see rainbows and condors.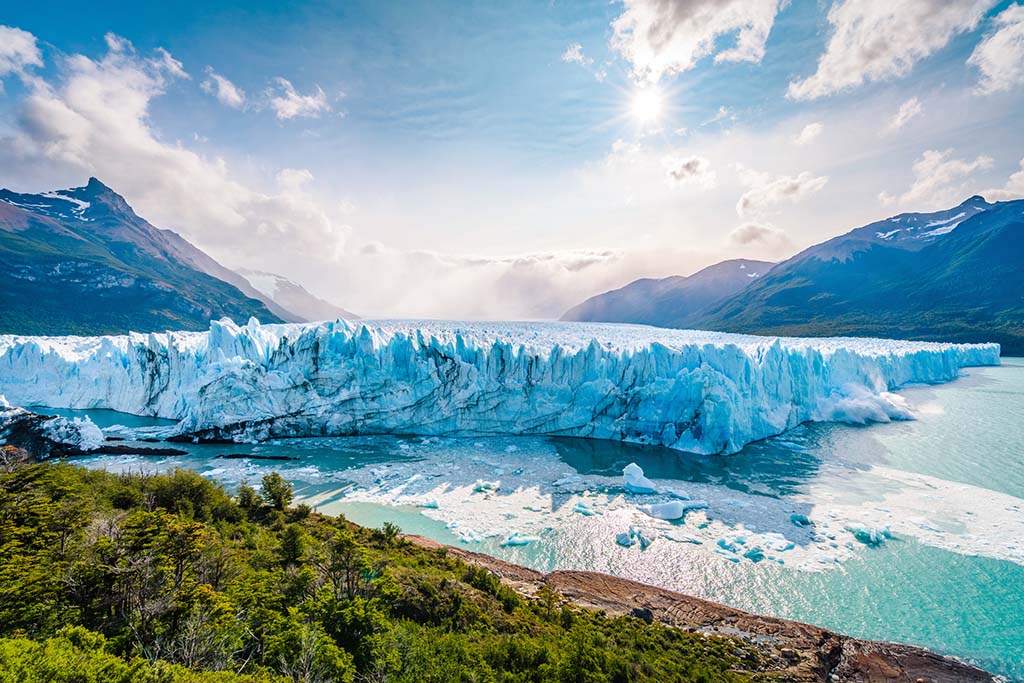 9. Los Glaciares National Park
By far, the biggest national park in Argentina is Los Glaciares National Park. This UNESCO site is characterized by imposing snow capped peaks, iconic skylines, electric-blue lakes, and, as its name suggests, glaciers. Just outside of the tiny town of El Chalten, the park's valleys and natural reserves are connected through a network of trails and offer endless opportunities for exploration. This trekking haven's most famous landmarks include the jagged peaks of Monte Fitzroy and Cerro Torre, in addition to the monumental glacier Perito Moreno.
Although the trekking in this superb park takes you to viewpoints of sparkling glaciers and crystal lakes, it is not for the faint of heart. Come to this park physically prepared to undertake 12-15 mile hikes to see the most beautifully jagged masterpieces that this park has to offer. In the following we will cover these attractions in more detail.
10. Perito Moreno
Located 80 kilometers East from El Calafate, due to its beauty, depth of color, and increasing size Perito Moreno is one of the most visited places in Argentina. Considering this massive ice sheet is larger than Buenos Aires, it's no surprise it is also one of the most famous glaciers in the world. A day can easily be spent watching large chunks of ice thunderously cracking off the walls hundreds of feet high. The 3 mile wide glacier is viewable from the series of boardwalks, giving visitors different vantage points to take in Calafate's spectacular ice sheet. To get even closer to Perito Moreno, consider taking a ferry across the lake or, for the most adventurous visitors, trekking across the glacier is an option. Exploring Perito Moreno on a trek is a uniquely, fun adventure. With crampons on your feet and a helmet on your head, there is an entirely new world to explore. The opportunities to admire its ice caves, sapphire blue pools and ice formations are endless, for more details please ask here.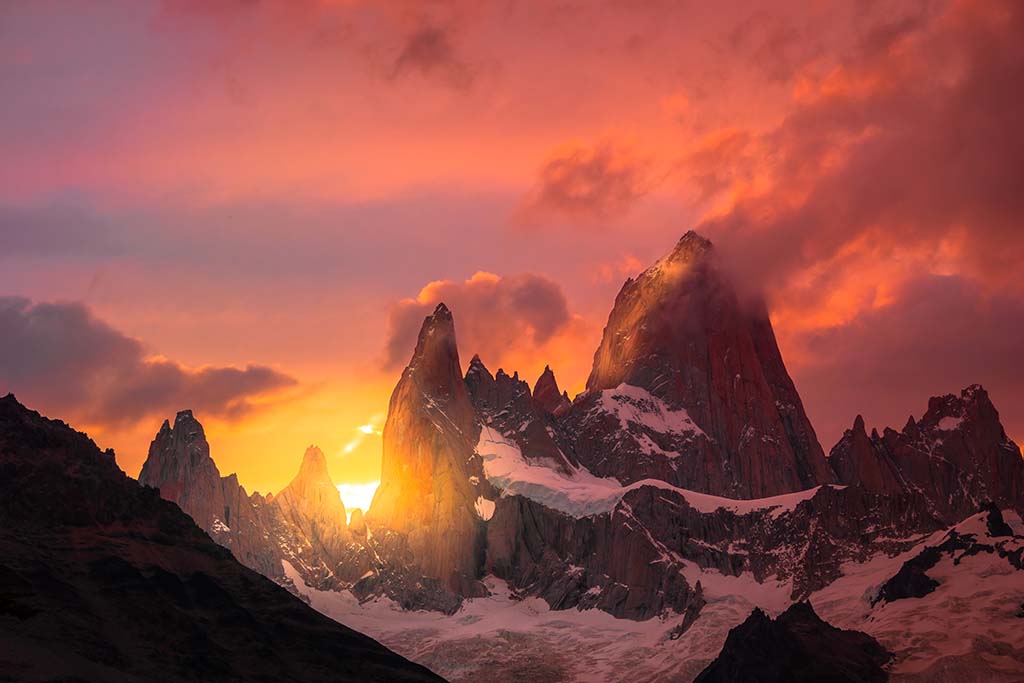 11. Monte Fitzroy
Monte Fitz Roy is a breathtaking monolith, easily recognizable by its pyramidal shape in its granite range. It's known for its steep angles and calving glaciers that crash into Laguna de Los Tres below. The trek to Monte Fitz Roy starts in El Chalten and it is considered one of the most beautiful treks in Argentina. The trail winds through rocky and wooded wilderness, where it's not uncommon to spot an eagle or stray rabbit. When Laguna de Los Tres and Monte Fitzroy come into view you'll be dazzled by their pinnacles and azure glaciers. Take time to enjoy the views at Laguna de los Tres and venture further to your left for a better vantage point to see Laguna Sucia. Come prepared for the 15.5 miles hike by breaking in your hiking boots and bringing adequate amounts of water. Enjoy the highlight of your time in Patagonia! Check out our El Chalten Tour 4 Days
12. Cerro Torre
Found outside of El Chalten, is one of the most popular and stunning treks in Patagonia, the 12 mile Laguna Torre trek. It's primarily known for its views of Cerro Torre, a soaring spire that holds claim to being the most beautiful mountain on Earth". The whole duration of the trek treats you to fresh mountain air and great views of the Los Glaciares National Park. The extraordinary granite towers are visible from Mirador Torre onwards. Once you reach Laguna Torre, sit and enjoy the fruits of your labor while admiring the floating icebergs and magnificent surroundings.
13. Fly Fishing
In addition to being one of the most striking places on Earth, Patagonia is home to world class trout fishing with innumerable rivers, lakes and ponds for anglers to lose themselves in. The season runs from late October and continues into mid April and welcomes fishers of every skill level. The fish here are impressive in both size and number, guaranteeing tight lines. Towards the end of the season brown and rainbow trout over 30 inches have been caught in these pristine glacial waters! It's also a once in a lifetime opportunity to use a Cantaria beetle as a lure, which any fisherman worth their waders will tell you makes for some fantastically aggressive takes. Enjoy some of the best fishing, meals, wine and company of your life. Check our Patagonia Fly Fishing Trips.
14. Tierra del Fuego
Outside Ushuaia is another one of Patagonia's fantastic national parks. Tierra del Fuego or the "Land of Fire" is known for jaw dropping scenery ranging from shimmering glaciers to crystal waterfalls. Some of the best ways to spend a day in Tierra del Fuego would be to see the bays along the coastal path Senda Costera or hike to the enchanting Laguna Esmeralda. If you are a wildlife lover, Lake Roca is a birder's paradise where the Andes Condor thrives. If you are lucky you might also be able to spot a wild fox or guanaco within the beech forests or Patagonian steppes of the park. Don't leave Ushuaia without exploring Tierra Del Fuego National Park!
For further information about packages please our view 5-day Ushuaia explorer tour package.
15. Dientes de Navarino trek (Puerto Williams)
On La Isla de Navarino can be found the most southerly trekking route in the world, 'Dientes de Navarino'. It is hailed as an alternative to Torres Del Paine for those who prefer a more rugged, less marked and overall more adventurous trek off the beaten path. The trek of Los Dientes de Navarino translates to "The teeth of Navarino". Without much imagination it is easy to see the area's jagged peaks as 'teeth' scraping the sky. If you prefer exploring the most remote corners of the world, away from crowds, civilization or anything else for that matter, then the Dientes de Navarino trek may be for you.
16. Estancias
A great way to see the rustic character and deep moods of Patagonia is by staying in an estancia, or a local ranch, in the countryside. A visit to one will take you deep into the heart of Patagonia's culture to drink wine, ride horses, and taste some of the most delicious barbeque on the planet. The locals proudly show off the wild landscape from horsetop, gladly taking you down old cattle routes to hidden glaciers and gaucho outposts. The Estancia's basic amenities give you an insight into the country's past and present an 'off the beaten' path alternative to the country's busier tourist hot spots. Just imagine winding down before a fire at an idyllic ranch with hearty food and good company after several weeks of hard trekking. Sounds amazing, right?
17. Pumas
Pumas are universally known for being a very secretive, shadow cat and a master of camouflage. Without an expert guide, you'd never know that this large cat was even in your vicinity. However, if you're keen to see one, Patagonia is one of the best places in the world to do just that. Although Pumas can be found all over Patagonia, Torres Del Paine has a particularly high density of these beautiful felines. Due to their protected status and the bounteous numbers of guanacos in the park, their high population density here is one of the highest on the planet. If you are lucky enough to see one of these agile cats it will surely be one of the highlights of your trip to Patagonia. Though the pumas of Torres Del Paine will allow respectful humans to observe them, it is essential to remember that they are wild animals and apex predators.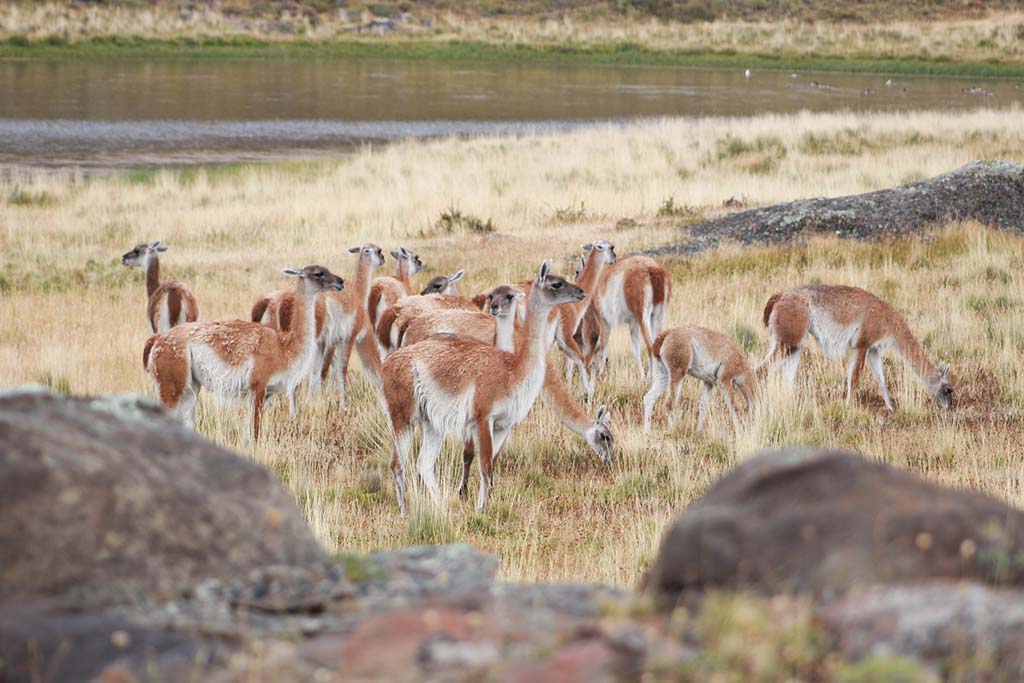 18. Guanacos
Sighted almost every day in Patagonia, South America's guanacos look very similar to their domesticated descendents llamas and alpacas. As gentle and sweet as they look, guanacos are very resilient animals leading treacherous lives. For a chulengo, a baby guanaco, danger lurks behind every corner and the likelihood of surviving to adulthood is a mere 30%. Guanacos live in the harsh, dry high altitudes of the Andes, with little protection from the open grassland and shrub. It's no surprise that their young have evolved to run within minutes of being born. These tenacious animals survive through sub-zero temps, snow and high winds at altitudes over 13,000 ft. These graceful animals are one of the largest animals on the continent and play an integral role in Patagonia's ecosystem. Without them the puma and condor populations would plummet.
19. The Penguin Colony on Magdalena Island
Magellanic penguins are some of Patagonia's most famous and friendliest inhabitants. Located in the strait of Magellan (big surprise) 20m outside of Punta Arenas lies Magdalena Island, the largest penguin colony in Chile. As you approach the island the cacophony of 60,000 breeding pairs of penguins' high pitched squabbles and trills will fill your ears. As you explore the island, you'll see them waddling about, crowding the shores, burrowing into their nests, and caring for their chicks. Be prepared for the most inquisitive birds to approach the walkways to get a closer look at you! After you've explored the island, visit the lighthouse to learn more about the penguins' habitat, breeding and ecosystem.
Local tip: On the way back to Puntas Arenas keep an eye out for dolphins, whales and sea lions that live in the strait.
20. Andean Condor
The Andean Condor is the 'King of Birds' and has long been revered by the indigeneous populations of Chile and Argentina. This impressive creature holds the records for the largest wingspan of any bird, reaching a length of up to 10 feet. These birds are found in mountainous regions or around canyons where strong updrafts create enough resistance for them to fly. In Patagonia, they can be found circling the iconic Torres del Paine or spiraling above Laguna Amarga. The geography of the Andes combined with the large guanaco populations in the Patagonian steppes make Patagonia an ideal habitat for these endangered birds.
Local Tip: You won't regret bringing a spare pair of binoculars to get a closer view of these colossal birds gracefully navigating the skies. You'll likely encounter them throughout your explorations in Patagonia.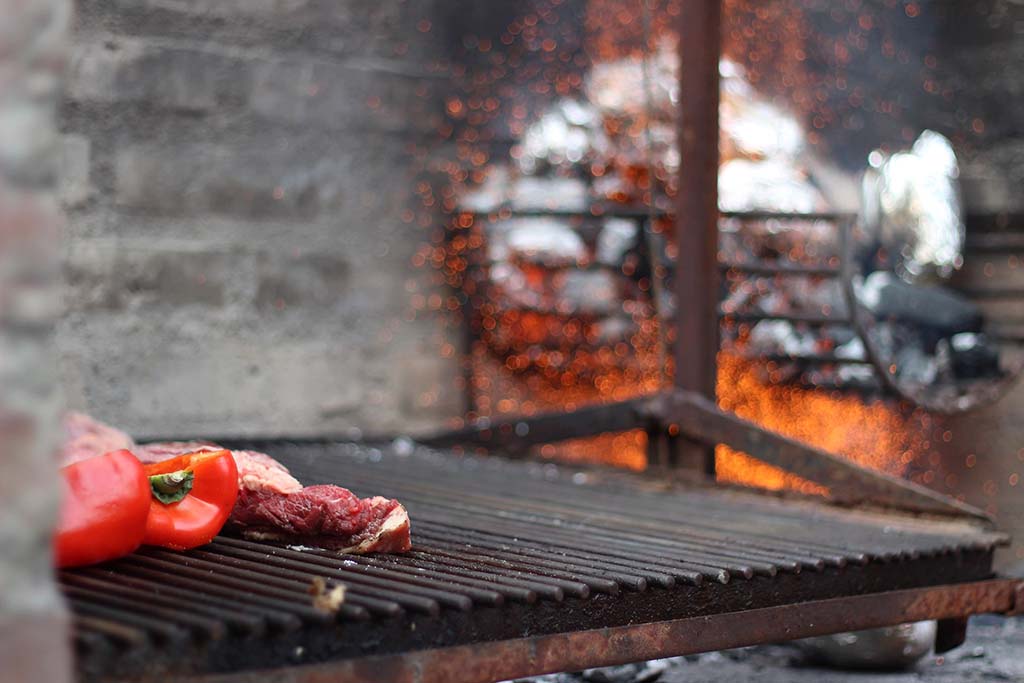 21. Patagonian Barbecue

One thing you can't leave Patagonia without trying is the barbeque, it's perhaps the most renowned form of lamb on the spit that you'll ever come across. This fresh lamb, taken straight from the fields, is rumored to be the best on the continent. Its preparation is an arduous process involving splaying the lamb, affixing it to an iron cross, bathing it in local white wine and hot sauce, and then hanging it out across a wood fire to roast slowly for 5-6 hours. The result is a tender, juicy meat with a nuanced gamey taste. When accompanied by a warm cabin atmosphere, the recountings of adventures, and paired with an Argentinian malbec, the magic of Patagonia comes to life.

22. Skiing

Although Patagonia is primarily known for its amazing trekking, it also has some of the best skiing in South America. Bariloche is the gateway to Argentina's most popular ski resort Cerro Catedral. The slopes here offer a wide range of difficulties and routes, as well as scenic views of the surrounding lake district. Another unique place to ski is at the 'End of the World' just outside the lively city of Ushuaia. There the Cerro Castor resort offers sweeping views into bordering Chile and over the Beagle Channel aka the gateway to Antarctica. Whether you ski the slopes of Puntas Arenas or Bariloche, reserve some time and energy for après-ski, including hot chocolates and whiskeys at the resorts' bars. And keep in mind that the ski season in the Southern hemisphere starts in June and runs until mid-October.

Patagonia is a sprawling paradise for wildlife lovers, hikers of all levels, and adventure lovers of all kinds. People from all walks of life have fallen in love with Chile and Argentina's stunning natural landscapes and we hope you do too! As always we hope you found our post helpful in organizing your trip. Don't hesitate to reach out with any questions or inquiries you have. If you enjoyed it please do like, share, and subscribe!

echo st_makeEntries() ?>