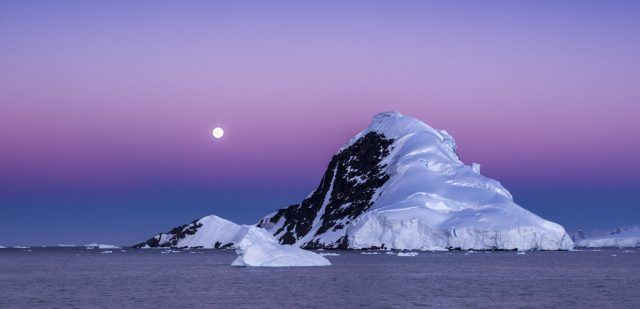 Packing is always a crucial part of preparing for any adventure, but when you're readying yourself to embark to the world's coldest and windiest place, knowing what to bring becomes all the more important. Fear not, we've compiled a comprehensive packing list to ensure you'll be as best equipped and ready as possible for your trip of a lifetime. You can download the complete packing list here:

Antarctica Air-Cruise Packing List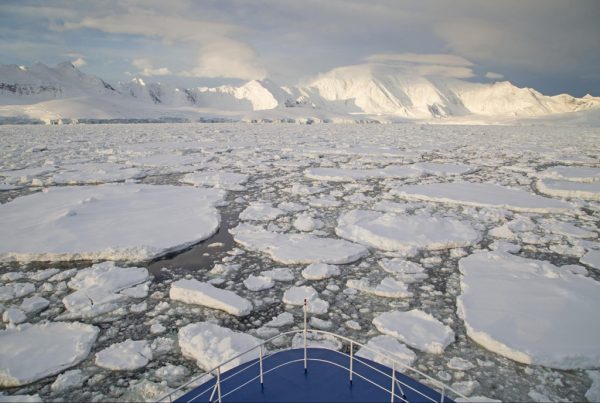 Luggage

When packing your bags and getting ready to set sail, we'd recommend avoiding expensive designer luggage or anything that might be easily damaged as well as taking out a luggage insurance policy that covers the cost of repairs or replacement in case your luggage is damaged. The maximum weight allowed on the flights to and from Antarctica is 20 kg (44 Lb.) per passenger, including carry on or hand luggage. The baggage weight limit is a technical requirement imposed by the flight operation, and therefore it is not possible to purchase extra allowance.

For Classic Antarctica and Polar Circle Air-Cruises, excess luggage will be kept in custody in Punta Arenas and will be handed over to travellers upon their return from Antarctica. For Antarctica Express AirCruises, excess luggage will be disembarked at Port Williams and will be sent to Punta Arenas by air cargo at the traveller's expense. It will be available for pick up in Punta Arenas upon the traveller's return from Antarctica.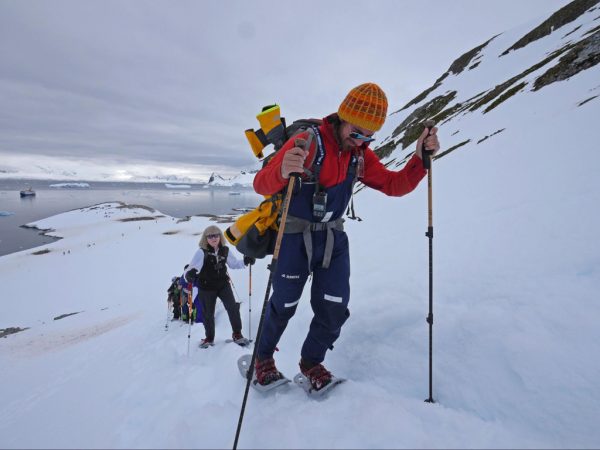 Day Pack

During every land excursion, we recommend having a waterproof or at least waterproof bag or backpack to store your water bottle, camera, binoculars, extra layers, and anything else you might need while exploring off the ship.
Layering – Base, Middle and Outer Layers

The average temperature in the Antarctic Peninsula during the summer is about 0°C (32°F), though it can at times feel a lower due to the wind chill factor. For this reason, it is best to wear several layers of light, warm clothing. The clothing we suggest for Antarctica is very similar to that recommended for skiing.

Base Layer

The first layer of clothing you should put on should help your body stay warm, wick away moisture, be easy to wash and odor-resistant. Thermals made of merino wool are excellent for those very reasons.

Thermal Long Underwear Pants (2-3)
Thermal Long Underwear Shirts (2-3)
A Couple Pairs of Underwear
Middle Layers

This layer will serve as your insulating layer. We would recommend a fleece or a down jacket, something warm and easy to zip and unzip so you can effortlessly regulate temperature without having to continuously remove and put on your jacket.

Heavy Fleece or Down Jacket
Lightweight Wool Sweater or Long-sleeved Shirts (2-3)
Fleece Pants (for when you're not out kayaking or trekking through cold wet snow)
Shell or Outer Layer

Your outer layer is what will protect you from elements.Getting wet in cold temperature is very uncomfortable. In an emergency situation, it can quickly become unsafe. You're going to want something waterproof, warm, and comfortable.

Windproof and Waterproof Winter Parka/Jacket
A Pair of Light Windproof and Waterproof Pants that will Fit Over Multiple Layers
Normal Clothing

When you're not out exploring the Antarctic landscape, it's a good idea to have some comfortable casual clothes for lounging about the ship.

Pants/Jeans (1-2)
Shirts (2-4)
Long-sleeved Shirts (2-4)
Light Sweaters (2)
Swimsuit (If you want to brave the polar plunge!)
Other Important Accessories

Hats- It's important to keep your head and ears covered and warm in the
Antarctic. We recommend bringing one or two hats, a warm wool beanie and a trapper hat with ear flaps for when it's especially cold.

Gloves- Waterproof thermal gloves are a must for any Antarctica trip. We would also recommend bringing 1 or 2 glove liners to wear underneath so that if you wanted to take pictures, you could remove your bulkier outer gloves while still having a warm layer to prevent your fingers from freezing.

Scarf/Neck Gaiter- To aid you in keeping warm we also suggest packing a scarf or, as a better alternative, a neck gaiter to cover your neck and lower face. If you are going to go with a scarf, opt for an infinity scarf as the long dangly scarfs tend to fly away or flop into your face.

Sunglasses- Antarctica can be a sunny, very reflective place. Sunglasses help protect your eyes, and while any ones would work, polarized sunglasses are your best option. You can also use ski goggles, which is especially helpful if you wear contact lenses, as this can stop them from drying out.

Warm Wool Hats that Cover your Ears (1-2)
Waterproof Thermal Gloves
Glove Liners (1-2)
Scarf or Neck Gaiter (1-2)
Polarized Sunglasses or Ski Goggles
Footwear: Shoes and Socks

Shoes- Because most landings are "wet landings", and you'll be walking through snow, you'll want to wear knee-high water boots on excursions. We will provide you with these, a pair of thermal rubber boots, before arriving in Antarctica. You'll want to bring your own comfortable shoes as well for lounging onboard the ship.

Socks- It's very important to bring plenty of socks of different thickness such as thick thermal wool socks for expeditions, liner socks to layer under the thicker ones, and warm regular wool socks for onboard the ship

Thermal Rubber Boots (We Provide)
Thick Thermal Wool Socks (2-3 pairs)
Liner Socks (2-3 pairs)
Wool Socks (2-3 pairs)
Toiletries and Medication

We recommend carrying the following:

Sunscreen (High SPF is Essential)
Lip balm with SPF
Basic toiletries (Soap, Deodorant, Toothbrush, Feminine Products…)
Lotion
Sanitizing Gel
Pocket or hand warmers
Kleenex
Plastic bags for wet items
Hair Brush & Hair Ties
Eye mask (20 hours of daylight can be disruptive to sleep)
Earplugs
Seasickness medication or Sea Bands
Advil or Ibuprofen
Any other medications that you may need
Paperwork and Money

You should bring enough money to cover any accommodation, meals, excursions and transfer other than those included in the itinerary and the Contingency Plan corresponding to each voyage such as: dinner in Punta Arenas upon return from Antarctica, beverages purchased at the ship's bar, Extra expenses (communication, laundry, souvenirs, etc.), Gratuities, Visas for Chile and/or Argentina, passport expenses, and any arrival and/or departure tax, if applicable, and packages like Snowshoeing excursions.

Passport
Copies of Travel, Luggage, and Other Insurance
Money
Other Items

Warm weather clothes (If you plan on spending a few days in Buenos Aires or Santiago de Chile before or after your Antarctic cruise.)
Playing cards
Kindle, tablet or book
iPod
Journal
Camera & Accessories (batteries, memory cards, lenses, tripod)
Waterproof Camera Bag
Binoculars
Electrical converter and/or adaptor
Travel alarm clock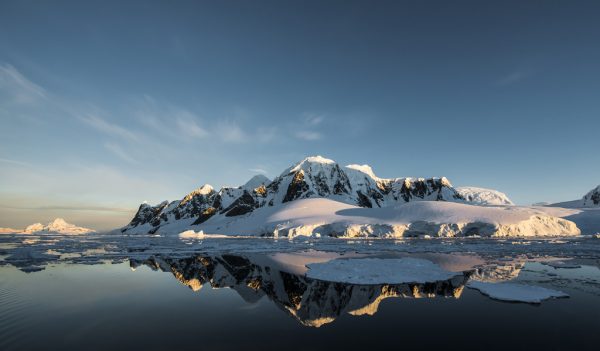 If you need to buy any gear for your trip, Patagonia Hero in partnership with Antarctica21 also offers you the opportunity to get equipped through the Antarctica21 Gear Shop. There you can purchase any gear you require such as waterproof pants, gloves, hats, mittens and other insulating layers, and your entire order will ship for free  directly to the office in South America. It will be available to you prior to embarkation in Punta Arenas or Ushuaia at no extra charge.

Related Reading:  Choosing Your Antarctic Cruise Ship

echo st_makeEntries() ?>